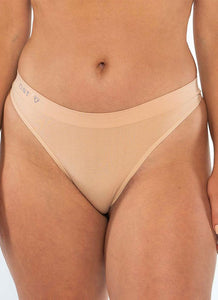 Our Nativ Cheeky G's were not designed to be cool or sexy. They were designed to be beautifully soft, comfortable, conforming to your figure, and underwear that you actually want to wear. The design is high-waisted with a wide string, which was carefully tested and selected so you'll never get a sore butt .ole again. 
Eco Soft Technology
Enhanced Breathability
Super Soft for Maximum Comfort
Made From Renewable Wood Sources
Minimal Footprint on Both Carbon and Water Resources  
The Nativ Cheeky G's range has been designed to deliver the best possible level of comfort. Not only comforting to the skin, but also by adding the assurance that the materials used for the product are sustainably sourced and environmentally conscious.